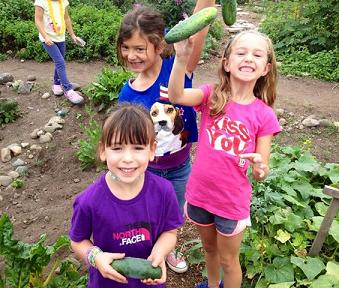 It's looking like we are past the tipping point! At last spinach is not just for Popeye.  Broccoli is no longer a foreign word in the language of children.  Cucumbers and even parsley are getting some respect. From the garden to the market into the kitchen and at the dinner table, kids are getting fresh! They get that they need to eat fresh food.  They also get that it tastes good.  And, they get it is fun to eat it raw or cook with it in the kitchen. Family Food Experts Co-Host Stacey Antine, RD (HealthBarn USA), author of Appetite for Life, has just spent another summer motivating lots of kids to embrace fresh food with hands-on gardening, harvesting, preparation and eating experiences at her camp.  Together we have fun stories and yummy simple recipes to share with you.
Come into our Family Food Experts Kitchen to find out how your kids can get fresh!  Sunday, September 9th, 1pm ET, on W4WN.com.
… for the health of your family,
ellen
www.FamilyFoodExperts.com
www.KidKritics.com
If you miss the live show, tune in on Sunday, 1pm ET, W4WN.com.