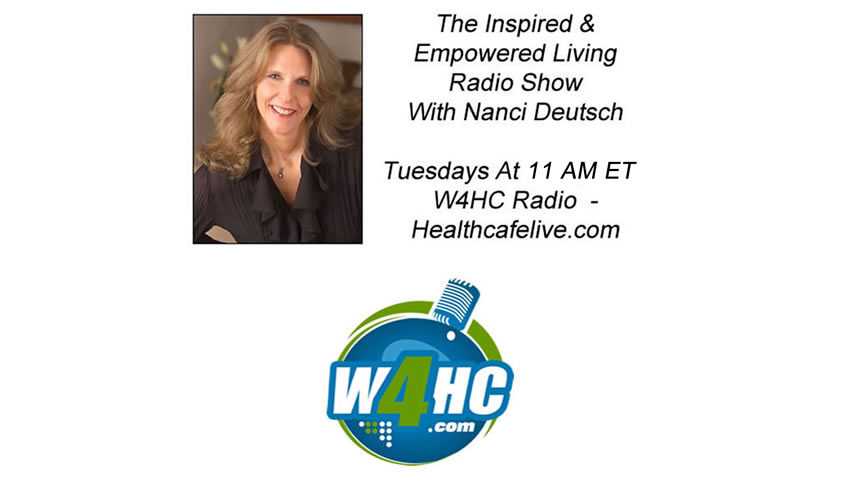 Learn how to live your best life now. As an intuitive coach and counselor for more than 30 years, Nanci shares her expertise and insights. She interviews transformational and motivational leaders from around the world.   Join Nanci in the chat by asking questions or commenting online. Become Inspired & Empowered by listening to the secrets of how to  manifest unlimited success, how to have loving relationships, how to create abundant finances, and well-being.  Let's create a life you love!
Radio show airs live on Tuesdays 11:00 am EST on W4HC Radio-  w4hc.com
Tuesdays at 11:00 AM EST
On W4HC Radio – Health Café Live
Nanci Deutsch is a Licensed Clinical Social Worker and Certified Hypnotherapist with over 30 years' experience counseling individuals, couples, and groups.  She is also a Master Practitioner of Neuro-Linguistics Programming™, (NLP), a graduate of the Enwaken Coaching Program-an Intuitive Energy Coach, and trained in P.E.E.R. counseling emotional release work.  Nanci uniquely combines her counseling, coaching and intuitive abilities to transform people's lives to become Inspired & Empowered.
Nanci conducts workshops, seminars, and training that facilitate clarity, clear blockages that keep clients from achieving success, and provides tools to assist them in reaching their goals.
Website – https://nancideutsch.com/
Intuitive Breakthrough Meditation:
https://www.inspiredandempoweredliving.com/meditation
Facebook:  https://www.facebook.com/InspiredandEmpoweredLivingShow/